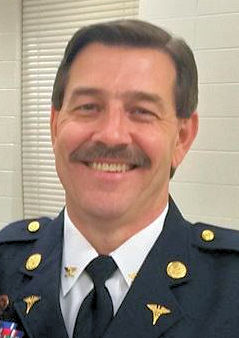 Monroe County's interim Public Safety Director has over 30 years of experience in fire service, including 16 as a city fire chief. Brian Meadows was appointed in January to a six-month term as the county's interim Public Safety Director. Prior to his 2016 retirement, Meadows was Ashburn's Fire Chief for 16 years starting in 2000, including eight in which he worked alongside current Monroe County Manager Jim Hedges, who formerly served as Ashburn's mayor. Before being named Ashburn fire chief, Meadows worked for 14 years with Turner County Emergency Services, starting as a volunteer firefighter at 18 years old and working his way up through the ranks to assistant chief.
Meadows' myriad on-the-job accomplishments include being named Firefighter of the Year in 1989 and Paramedic of the Year in 1993 while working for Turner County. In 1994, Meadows and his then-partner Curt Pylant were also the first paramedics in Georgia to receive a state Medal of Honor award for rescuing a burn victim in a vehicle accident. While Ashburn Fire Chief, Meadows' department updated its equipment and vehicles, enhanced its training program, developed and implemented emergency medical response for EMTs and developed and implemented advanced rescue skills. Those efforts resulted in Ashburn improving from a Class 7 ISO rating in 2000 to a Class 2 ISO rating in 2016.
Meadows is also an accomplished training instructor in fire, emergency services, emergency management and police, teaching classes for the Georgia Fire Academy, Georgia Emergency Management Agency (GEMA), the Georgia Police Academy and at Albany State University in the health sciences division. Meadows estimated he teaches at least 1,000 hours each year. "The biggest thing I enjoy about it is I'm versatile," Meadows said. "If the sheriff was to call me and need training, I can facilitate that. Or if a fire chief or an EMS director or an EMA director needs help, I'm in a spot where I have the credentials to help any of the four."
Meadows, a military brat, grew up in Turner County after his father, a 20-year U.S. Army veteran, was killed in service during the Vietnam War. Meadows said he knew he wanted to be a firefighter from the time he was 10 years old watching the 1970s TV show "Emergency." He said, "I probably didn't end up exactly where my mom and dad wanted me to, but I sure wouldn't have ended up where I'm at without them."
Having lived in Turner County since childhood, Meadows said he wasn't eager to leave his hometown to work in Forsyth, but he said his longtime friend Hedges was "persistent" in recruiting him. Despite enjoying his retirement in Ashburn alongside wife Tommie Ruth, a retired kindergarten teacher, Meadows finally relented and agreed to travel two or three times a week to Monroe County until the end of June. Meadows and interim Fire Chief Jason Lott will continue to lead the Monroe County Fire/EMS Department until a permanent Public Safety head can be identified. Meadows said he will be involved in the hiring process but said County Manager Hedges and Monroe County Commissioners will have the final say.
Since Meadows took over in January, Commissioners have bought three new fire engines with new equipment. The Fire/EMS Department has also increased its number of personnel for each shift from four to six. Meadows also used his contacts with GEMA to have four water storage tanks delivered to the Juliette area for citizens with contaminated wells to use for drinking water. Meadows said, "My biggest goal is to enhance the service and provide the best economical service we can to the citizens." Meadows said he's been very impressed with Monroe County's full-time Fire/EMS personnel and said another key goal is to increase the number of department volunteers. "I want to enhance the volunteer program and offer them training, updated equipment and personal protection," Meadows said. "I want to make sure that personnel, whether they're paid or volunteer, are my most important resource. I can't do it without them. And if anybody is interested in volunteering with Monroe County, we've got a place for you."